There's a desire for lightness in the air … so even at the table you can't be outdone!

    Too bad: I adore meatballs and just the idea of ​​giving them up makes me feel so sad!

    If you find yourself trapped in the same loop don't despair because I have found the solution: these delicious zucchini and mint meatballs made of chickpeas or Greek feta to your choice.

Just pan-fried they will give you the satisfaction of a delicious bite, but with a super light heart 😉

    That's a good compromise!
MAKES 10 bites
READY IN 20′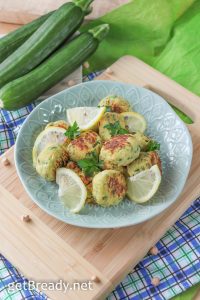 INGREDIENTS:
2 zucchini
1 teaspoon extra virgin olive oil
8 tablespoons boiled checkpeas (or Feta cheese)
2 mint leaves

1 egg
½ teaspoon lemon zest
Salt and pepper to taste
1 teablespoon extra virgin olive oil
STEP 1: GRATE THE ZUCCHINI

Wash the courgettes and remove the ends.
Grate using a large hole grater and dab with kitchen paper.
Place them a couple of minutes in a pan with oil.
STEP 2: MAKE THE BITES

Place zucchini in a bowl and add: blended chickpeas (or Feta cheese), egg, mint leaves, lemon zest, salt and pepper.
Take a teaspoon of dough at a time and roll it into a ball to shape round bites.
STEP 3: COOK
Line a pan with parchment paper, place zucchini bites on it and start cooking on low heat covering with a lid.
Add a tablespoon of oil and cook 5 more minutes.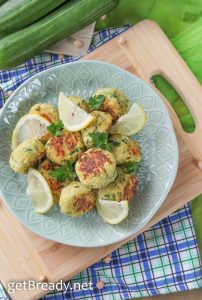 #getBready & enjoy your meal
Share on: