When you are undecided between a portion of meatballs, stuffed aubergines or a creamy red sauce, then it's time to try this recipe!

That's a main course (ideal served with simple boiled potatoes) rich in taste and delicious, especially recommended for Sundays with the family (extended ones!).

Come on, today I'm explaining you step by step how to make meat stuffed aubergines in red sauce without turning on the oven.

Are you in?
MAKES AB. 10 PIECES
READY IN 50'
INGREDIENTS:
5 aubergines
7 oz ground meat
1 sausage
1 egg
2 tablespoons Grana cheese
2 tablespoons breadcrumbs
Salt and pepper to taste
3 tablespoons extra virgin olive oil
1 glass tomato sauce
1 cup hot water
Salt to taste
3 basil leaves
STEP 1:BOIL THE AUBERGINES
Wash the eggplants and cut off the ends.
Dip them in boiling salted water for about ten minutes, then drain.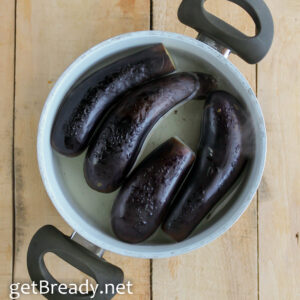 Cut them in half lengthwise and remove the seeds with a spoon.
STEP 2:MIX THE INGREDIENTS
In a large bowl combine ground meat, sausage (chopped), egg, breadcrumbs and Grana cheese; Add salt and pepper.
Knead by hand until uniform.
STEP 3:FILL THE AUBERGINES
Take a little of mixture and fill each aubergine pressing with a fork.
STEP 4:COOK
Place stuffed aubergine in warm oil and cook for 1 minute on both side.
Wait a minute, then turn the aubergines upside down to cook them on both sides.
Lower the heat and add tomato sauce, water, salt and basil leaves.
Then continue cooking for 30 minutes.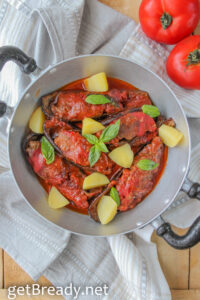 #getBready & enjoy your meal
Share on: