Some people don't like this vegetable, but if you follow this recipe it's better than lasagna! A crunchy and tasty crust combined with a soft béchamel sauce inside… authenic gluttony!
SERVES 3-4 PEOPLE
READY IN 30'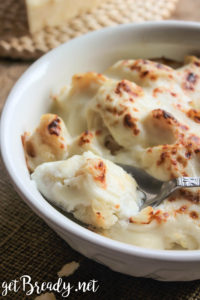 INGREDIENTS
1 cauliflower
2 US quart water
Coarse salt to taste
1 tablespoon butter
1 tablespoon all-purpose flour
1 cup milk
Salt and nutmeg to taste
Butter to taste
STEP 1: BOIL THE CAULIFLOWER
Wash and cut the cauliflower in big chunks. Cook it in boiling salted water for 13-15 minutes, then drain it.
STEP 2: MAKE THE BECHAMEL SAUCE
In the meantime melt the butter in a non-stick saucepan. Remove from heat and add the flour, stirring with a whisk until you'll get a golden cream. Put the pan on the fire and add the milk,  beating with a whisk to avoid lumps. Add salt and nutmeg to taste. Carry on cooking over low heat for 10 minutes. If it's too firm, you can add a little milk!
STEP 3: COMBINE AND COOK
Place the cauliflower chunks in a baking pan and cover with béchamel sauce. Add some butter flakes and Parmesan cheese. Cook in preheated oven at 250°C for 10-15 minutes.
#getBready& enjoy your meal
Share on:
Salva
Salva
Salva
Salva
Salva
Salva